Not Available Yet
Detailed metrics are not yet available. Please check back later or contact support@immunequest.com for more information.
Overview
Evaluate ImmuneQuest: Click the 'Download Now' button below for free access.
Give Your Students Access: Simply have them go to ImmuneQuest.com and click "Download Now." Part 1 contains three full levels and is free. Students can purchase Part 2 from within the ImmuneQuest App. Revenues will help us accelerate the creation of Parts 3-5.
Register Your Course: Use the Educator's Portal (below) to allow your students to compete for high scores and see comprehensive performance metrics mapped to learning concepts.
Unlock More Advanced Levels: After mastering the first three levels for free, students and educators can purchase more levels for themselves through the store, accessible from within the ImmuneQuest app itself.
See Table of Contents for Educators
Educator's Portal
Get Started in Three Simple Steps:
1) Register your Course:
Click this link to register your course with ImmuneQuest. Register as many courses as you want.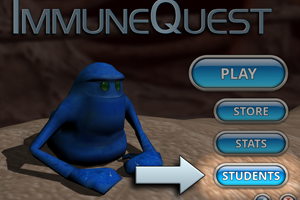 2) Give students your course code so they can register:
Students register by opening ImmuneQuest, clicking "Students," and entering your course code.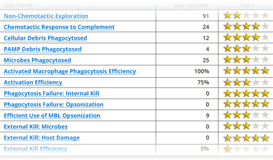 3) View Class Metrics:
You can review the progress of all your registered students via the "metrics" link associated with each course code you've created below.
Educator's Course Registration
Register New Course:
View All Registered Courses
If your courses aren't currently displayed, you'll need to provide us with the email address you used to create your courses.

Download the ImmuneQuest app to start building your virtual immune system today!




Windows 7,
Windows 8,
Windows 10
Mac OS X
Coming Soon
Coming Soon
All trademarks are the property of their respective owners.
ImmuneQuest Pricing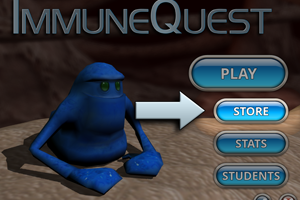 Part 1: The First Responders
Part 2: Reinforcement Cometh
Bonus levels for Parts 1 & 2
6 bonus levels
$3.99 each
To Purchase Additional Levels, launch ImmuneQuest and click the Store.
Purchase of additional levels will help fund development of ImmuneQuest Parts 3-5, which introduce even more immune components such as natural killer cells, B-cells, T-cells, antigen and antibodies to combat a horde of nasty new microbes. In the end, players will master how all eight components of the immune system work together to defend the body from all types of pathogenic microbes.